Tell us more about the weddng you're planning by completing the RFP form below. A member of our sales staff will contact you shortly to discuss your event.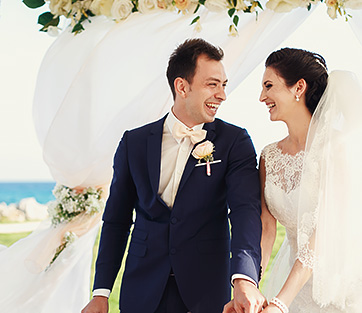 Amara Cay
A perfect setting for a small wedding, Amara Cay features a beautifully landscaped event lawn and beach for outdoor ceremonies. After the vows, celebrate with a breezy reception at Sparrows Rum Bar or a catered dinner under a tent on the beach. Indoors, the Glass Bowl accommodates up to 50 guests.
The Glass Bowl:
• 713 square feet
• Floor to ceiling windows with curtains for privacy to provide an intimate setting
• Capacity up to 50 guests; ideal for receptions and meetings
The Beach:
• Capacity up to 100 guests; ideal for ceremonies and receptions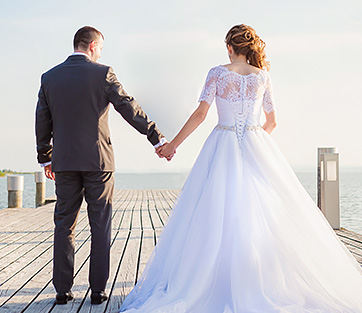 La Siesta
La Siesta's Starfish Villa, a secluded five-bedroom oceanfront bungalow with a lush event lawn that stretches to a picturesque dock, is the perfect backdrop for an intimate wedding.
The Beach:
• Six acres of oceanfront beach
• 200 square foot tiki hut for events
• 1,000 square foot oceanfront lawn for events
Five-Bedroom Starfish Villa & Lawn:
• 1,000 square foot private backyard and dock
• Four-day, three-night wedding package includes
• The five bedroom house with accommodates up to 12 guests
• Site fee
• Four-hour bar with beer, wine and mixers (up to 75 guests)
• Champagne toast
• Two complimentary boat slips
• Discounted rates for additional nights and guest rooms
Pelican Cove
Pelican Cove exudes romance. The resort's breathtaking settings for weddings include North Beach, Pelican Point, a lush event lawn accommodating up to 200 guests, and The Next, an indoor space for 12 with sliding doors to a beachside patio.
North Beach:
• Capacity up to 150
South Beach:
• Social gathering only
Event Lawn:
• 6,900 square feet
• Capacity up to 200 guests
• Dressed with permanent tent poles, landscaping, lighting and privacy fence and trees
Pool Deck:
• Capacity up to 50 guests
Lounge:
• Capacity up to 50 guests
• Potted plants and draping on columns
The Nest:
• Capacity up to 12 guests
• Newly renovated meeting space with boardroom table, WiFi & TV
• May also be used as a hospitality suite or a small reception for up to 30 guests
Postcard Inn
An iconic Florida Keys resort, Postcard Inn is perfect for a celebratory wedding weekend. Featuring two private beaches, swimming pools, a charter fishing fleet, watersports and more, this Islamorada favorite can accommodate up to 500 guests, depending on the location. Settings include Celebration Island, Rum Runners Beach and the Quarterdeck.
Bimini Row:
• Capacity up to 120 guests
• Located near the marina
• Perfect for fishing tournamets and company events
Celebration Island:
• Capacity up to 75 guests
• 600 square foot island located at the north end of the beach
• Perfect for smaller weddings and parties
Celebration Tiki:
• Ideal for hosting receptions up to 150 guests
Run Runners Beach and Beach Pavillion:
• Capacity up to 120 guests for pavillion, up to 500 guests for the beach
• 72,000 square foot beach for events
• 1,400 square foot pavillion for events
Horizon Room:
• Capacity up to 120 guests
• 3,649 square feet with floor to ceiling windows on the sixth floor
Quarterdeck:
• Capacity up to 80 guests
• 1,680 square feet
• Seconf floor indoor oceanfrom venue
• Ideal for intimate meetings and gatherings