The Resilient Key Lime
Have you ever wondered what is the difference between a Key lime and a regular lime? Look no further, the difference is clear. The Key lime is stronger, the juice is more powerful, and the zest is irresistible.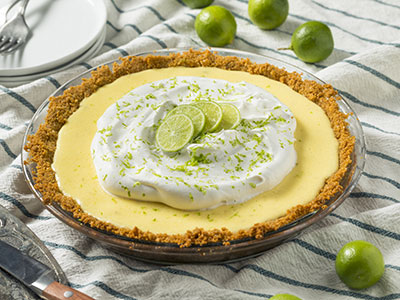 Key Lime Pie Recipe
Ingredients
•1 (9-inch) prepared graham cracker crust
•3 cups of sweetened condensed milk
•1/2 cup of sour cream
•3/4 cup Key lime juice
•1 tablespoon grated Key lime zest
Directions
1. Preheat oven to 350 degrees
2. In a medium-size bowl, mix the condensed milk, sour cream, Key lime juice, and lime rind. Stir well and pour mix into the graham cracker crust.
3. Bake in preheated oven for five to eight minutes, until little pinhole bubbles are appearing on the surface of the pie, remove and chill thoroughly before serving. Garnish with delicate Key lime slices and delicious whipped cream.
We look forward to welcoming you back to Amara Cay soon!
Live Music in the Keys
Live music and The Keys go hand-in-hand. Most months, there are number of opportunities to take in local musical talent...
Halloween Spirit in the Florida Keys
Autumn is our favorite time of year. While temperatures are dropping around the country, it remains a sunny 85 degrees here...
Family Fun on July 4th!
Islamorada rocks Independence Day Keys-style. Spend the night of July 4th at Founders Park, not far from our resorts, for an...
Full Moon Party At Morada Bay
The moon is one of the most important elements on – or should we say around – the planet.
The Florida Keys Farmers Market
While the farmers markets in more northerly climes are closing up shop, the Florida Keys Farmers Market continues to provide...
The Best Craft Beer in Islamorada
Here in Islamorada, we like to keep things local, like real local. We enjoy simple pleasures like crisp cold beers, sunsets...
Rainy Day Ideas for Your Islamorada Vacation
Rainy days equals unparalleled sightseeing opportunities! When it rains it pours, but sometimes that's not a bad thing...
A Well-Crafted Taco Is A Beautiful Thing
Fish tacos. Ah. The sweet allure of fresh ocean-to-table fish delicately folded in flour tortillas and topped with delicious...
A Fun And Informative Adventure At The Keys History & Discovery Center
Just five minutes by car from our resort, the Keys History & Discovery Center is the perfect place to get acquainted with the...